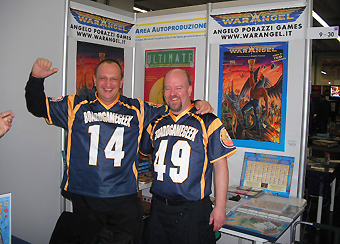 Here it is Derk Solko co-founder of BGG with Scott Alden at my Angelo Porazzi Games - Area Autoproduzione Booth in 2010: the very first time I wear this Jersey then showed in all italian fairs who invite and host me, about 30 per year since 2000, each one with his own PhotorReport I dedicate to each of these luding encounters:) In the PhotoReport above, the VIDEO of Warangel at Essen, BGG Booth:)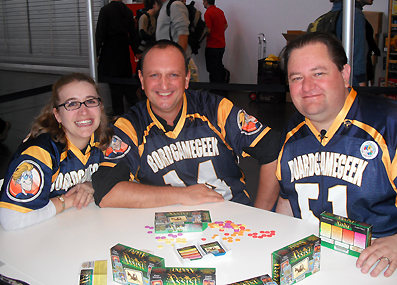 And here we are in Essen Spiel 2011 at BGG booth with Scott Alden for the VIDEO of Assist the game I created and illustrated that year in collaboration with Marco Donadoni, Cartamundi and Spielmaterial, which is the most played in my Italian Fairs in 2012 - 2013.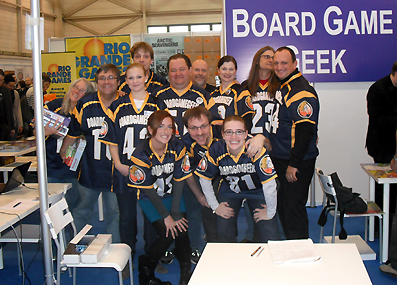 Here the BoardGameGeek Team in Spiel 2011: great honour to be your #14 italian quarterback;). All this nice thing starts because I played American Football back in the '80 for Milano Pythons and I realized PeaceBowl a simple boardgame for families realized in collaboration with AIFA (Associazione Italiana Football Americano) and NFLI (National Football League Ityalia) which was the very first game requested by mr Rick Partin years ago. Then he knew the multi awarded Warangel, Porcellini and many others games I created and illustrated, all communicated on BGG.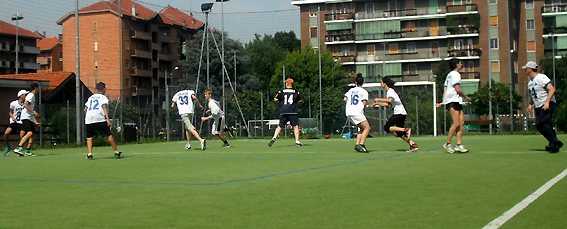 Here is our quarterback Rick (wearing my BGG Jersey) on the field. Althought his father is a real American Football Coach who coached for 30 years, Rick had a hard time winning this young international team I coach per 9 years here in Milano, in the Oratory of Fatima. He got only 1 TD pass and 3 interceptions that shows well the level of difficult to win over these young athlets:) Glad me and Alessia (my greatest daughter and best quarterback with me) this last championship get only 1 and me 0 interceptions with 14 and 17 TD pass: believe me it is not easy:)

The defenses was great so we need a trick play: Angelo fake run on the right then... pass to Trevor, Rick's and Paula's son, who is flying on my right...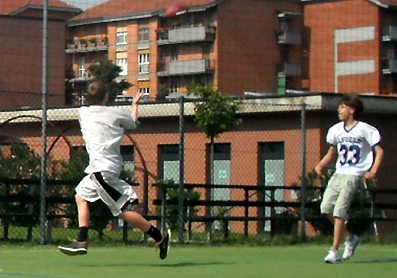 ... And here is his perfect reception (note the pro hands position and the two feet "flying", brava Paula for this shot) for the first touchdown of the game... And Trevor does NOT play American Football! It is clear how this sport is in the DNA of every man of that country... that takes name fom an Italian sailor!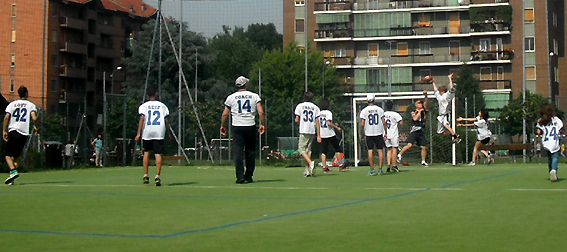 Here another excellent elevation of Trevor (tall like me and he is only 15) who deflects a pass from Eric (#42: our best defender with the jersey of Ronnie Lott) to Alessia, with her hands waiting for the ball: what a jump! Trevor ends with two TD receptions and two interceptions, showing a great skill and determination, typical of American athlets: MVP of this international game;)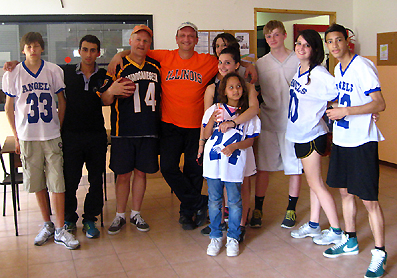 After the macth, arrives from this friends from US, the shirt from their Illinois I will wear for the rest of these pictures with great honour: thank you guys:) Glad to put together here in Milano a team with people from many countries, playing and coaching your fantastic sport in the real life and with my boardgames.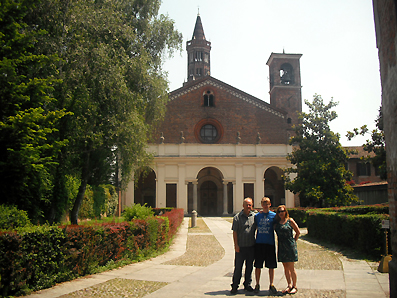 But we just played here in Milano? Shure not: after our incredible Chatedral the Milano's Duomo (the second church in the world after S.Peter in Rome) and the great Castello Sforzesco shown in their first visit years ago, we discovered now the Abbazia di Chiaravalle, one of the oldest church you can see around here. Through my PhotoReports, about 30 per year since 2000 (here you see only the ones in 2013) you can see how many authors, games, oganizators of event, co-work with my Area Autoproduzione, but also how many wonderfull cities invites and host us: check for example the PhotoReport of San Marino (where the 14th National Tournament of Warangel was held) or the amazing Gaeta Games wich is a concentration of Art, Nature, History and Sea:)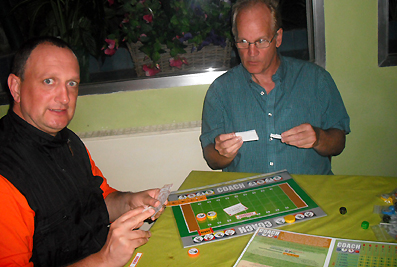 Here me and Rick in the little pearl Hotel Rio in Varazze, so quiet and along the sea (see the pictures on the other column) testing my very last game COACH. After PeaceBowl of 2003 I realized this game I playtested and played with friends for 25 years, since my years as quarterback. Rick said something like that: "I played many boardgames about American Football but none as good as this"... Well, as I always say "If you are happy I am happy"! Glad this old game, now available in Italian and soon available in english, is appreciated by you too! For any info feel free to write me anporaz@libero.it... Or to Rick;)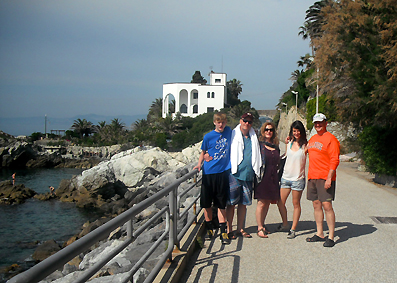 Men not only lives on boardgame (thanks God) but also lives the real life:). Here we are visiting maybe the nearest seaside to Milano: we are in Varazze, between Genova and Savona, in Liguria, full of wonderfull Villa along the sea, like this you see in the picture.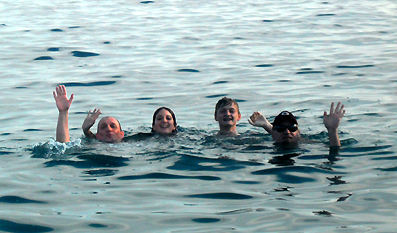 Swim? Of course:) Yes the water was cold for the bad weather we had in all Europe this spring, but we where lucky: no rain this weekend; in these days noone was swimming here.. but us;)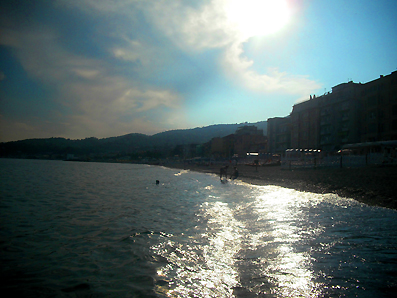 Here you can see "our" sea and down there the France, and the Spain where these friends will fly after Milano. The sea was literally all ours:) And the sun too: you can clearly see the part of the sky in shadow and the part enlightened by the ray of the sun: the game of life is decide where to live, the people you like to live with... and how to live;)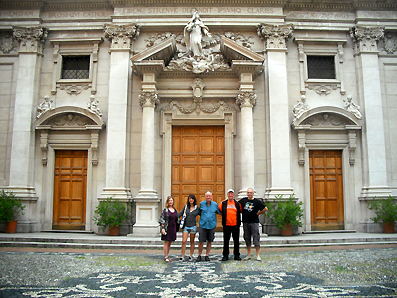 Are there other BGG friends in a little town like Varazze? Of course:) Thanks to the many fairs that host me, I know and I am known by thousands of players that meet me in so many cons and I have good friends in many towns. Here in Varazze Massimo Delfino users either of La Tana dei Goblin (our Italian, historical BGG, same age of Warangel) and of BGG of course. He and his son was so kind to show and describe us the wonderful places of their town. Here we are in front of the Chatedral of S.Ambrogio enclosing the statue of S.Caterina who saved the town from the pestilence.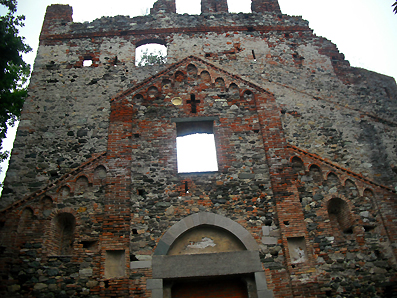 And here along the Roman Walls that enclosed the churches of those ancient times... You cannot image the number of wonderful things we saw in few time in this little wonderful city, tnaks to Massimo.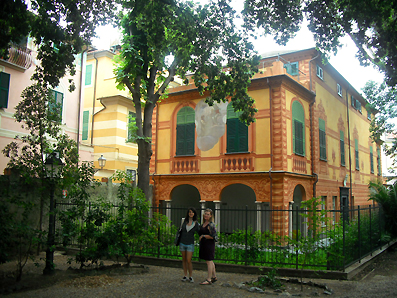 For example the garden with the oldest tree of Varazze: under its leaves it was like to be in Pandora;) And all around the garden you can see so many examples of "bugnato" the art of painting walls of villas with "frescos" that seems windows, or arches, or balconies or paintings... So typical of this region full of art and story like all Italy is.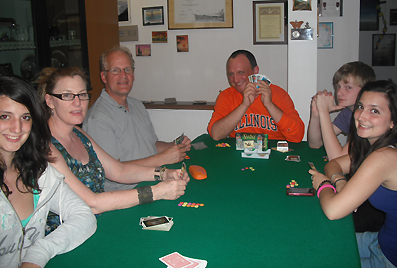 Back in Milano we all play Assist where Paula showed as a real "mind reader": she is really good at this game which is loved by many woman, girls, and teachers. You have to speak, interact, talk each other, check the VIDEO with Scott at BGG booth:) No doubt this game is the most played in all my fairs of the second two years due you can play it in any number of players, an entire family, a classroom, a team... In all of my Fairs:)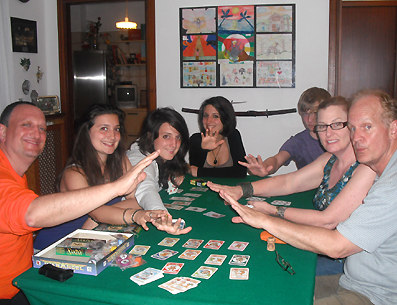 The second is Porcellini that is simply my old 2007 LovePigs with the newest rules for babyes I developed in 2010 and that you can read here. Just slap your hand on the right LittlePig card called by the dealer: the fun thing is how to call it: singing, miming, making a question appropriate for the players you have around the table.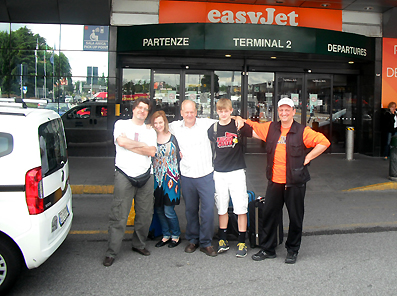 "Funny how... Time flieeees" are the last word of "Head Over Heels" one of the songs whe play together with Rick, and our families. Yes "Time Flies" and the important thing is how we spend the time we have in our lives. If you are happy to make other people happy, well... YOU WIN:)
Here we are back in the airport thanks to my dear friend Roberto Saranga, Taxi Driver and deep lover of BoardGames. He shared with me every Ludica Milano since its very first edition in 2008 and the "Fair of Art of Creativitiy" that, like Ludica, is either in Milano and in Rome. That is why last year I was not with my Area Autoproduzione Booth in Essen: too many fairs here in Italy:)
Check the 2013 Calendar and you have a clue;)
Dear "allover the world" BGG friends: if you travel Italy, feel free to write me: ask Rick if he had a good time;)
To the next!
Angelo Porazzi