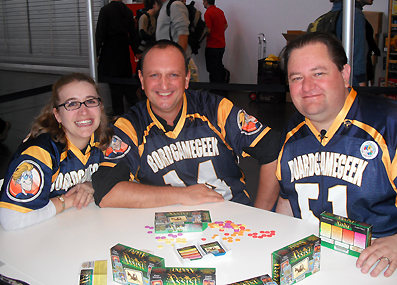 ASSIST VIDEO with Beth, Angelo and Scott at the BoardGameGeek Booth!
A Family, Pokery Card Game that Aldie during the video commented like that: "I love this game" - "This is Wonderful" - "This is Great" - "Still one More"... Dear friend, thank you for your kind words and very glad you all appreciated Assist!
Here in Essen 2011, this Card Game was played, appreciated and picked up for distribution by Nick Medinger by Funagain: if you are interested, ask to him:)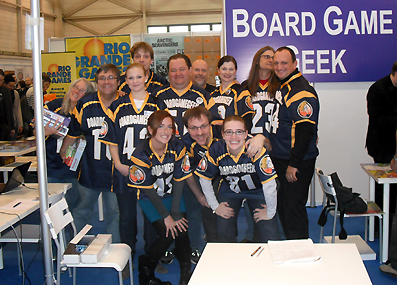 Thank you BoardGameGeek! Before the opening of Essen 2010, Derk Solko one of the founders of BGG together with Scott Alden, was so kind to bring at my booth the American Fotball BGG Jersey with the # 14. Same number I wear when playing Quarterback for Milano Pythons maaany years ago, and with the name WARANGELO on the back. To understand the story of this gift, you have to check the PhotoReport of Essen 2009:) Have you ever seen WarAngelo so happy?:) Really proud to be a part of this BIG TEAM:)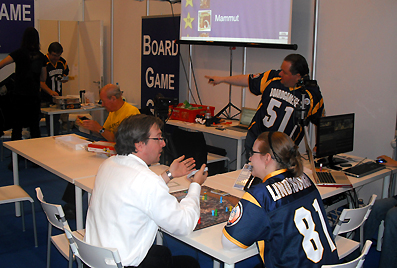 I work in the luding word as professional game designer and illustrator since 1996 with my first awarded game Warangel; BGG lives since 2000: in all this time I do not count how many people, new authors, gamers, I put in contact with this website, or introduced here in Essen BGG booth. Here with his yellow T-Shirt the 77 years old author of Area Autoproduzione Bum van Willigen from Holland who follow us in Ludica Milano, Lucca Games and here in Essen. I introduce him personally to Aldie that is directoring all these videos. On air is Andrea Chiarvesio with his last work Arcanum, together with Pierluca Zizzi. Who was in Essen Area Autoproduzione Booth back in 1997, here the PhotoReport:)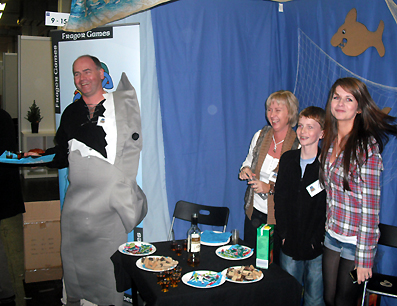 The usual party that took place in all Essen Fairs in front of our Booth 9-30: the Fragor Brothers and their families always bring something new to entertain the audience, with their games, drinks and foods! Here Gordon is feeding friends while his body is feeding the shark of their last boardgame: Poseidon's Kingdom!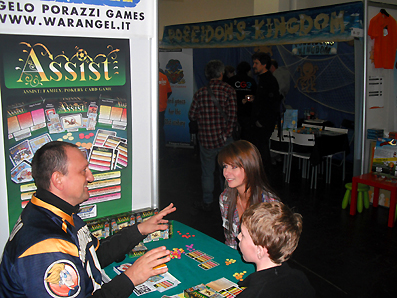 His children where maybe the first to play Assist! at my booth: glad you too appreciated my game! Gordon's daughter is really similar to my 17 years old first daughter: maybe she will reach us in Essen in next years... At the fair end on sunday, for these young friends, little gift of uncle Angelo from Italy:)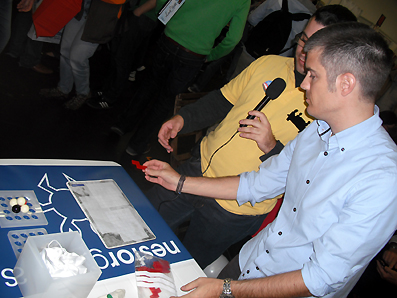 Our Area Autoproduzione booth welcomes for the second year Nestor Romeral from Spain, this year only on day 1 because he just become dad a second time! Here is interviewed by Andreas Buhlman of Cliquenabend.de, a german passionate that works more than a journalist and was so kind to interview me many years ago as first Italian designer on his website. Here you find that historical presentation available in English and German.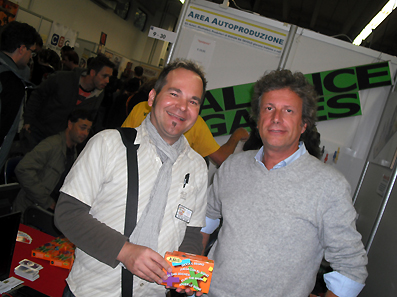 Another passionate that worked as a real italian-german luding journalist is Jost Schwider who opened on 2005 the italian-german website Spielepizza.de. Here I introduce him to Giovanni Calcagno from Genova and his orange card game Play The Sign, available in 5 languages; you can find it on BGG too, of course.
Here the complete list of authors and games at our booth this year
Angelo Porazzi Games - Area Autoproduzione: Hall 9 Stand 30

BALANCE GAMES - Balance Duels
Created by Bum van Willigen from Holland
DIDATTICAGIOCHI - Play the Sign
Created by Giovanni Calcagno from Italy
NESTOR GAMES
Created by Nestor Romeral from Spain
ANGELO PORAZZI GAMES - Assist - Novelty 2011
Create YOUR Warangel - 10th Generation
Created and illustrated by Angelo Porazzi
Many thanks to all the people, friends, authors, gamers who meet us at our booth just to shaking hands or for a talk, not shooted in the PhotoReport.
Just remembering:
Patty Pearcy and and Mary Ecklund from Simply Fun, Steven and Monique from Cartamundi, Dagmar De Cassan, Nick Medinger, Eric Martin, Friends of Spieletest, Joyce Lam, Luca Cattini, Paolo Mori, Fabio Boero, Gunther Schmidl, Luca Borsa, Francesco Berardi, Silvano Sorrentino, Friedeman Friese, Daniela Bigini, Mario Sacchi, Jon Power, Manfred Rompkopf, Cristina and Marcello, Nate Hayden, Christian Lemay...
Simply impossible to list all friends you meet in Essen Fair:
they are too many!:)
ESSEN SPIEL 2011
19-23 october 2011
Angelo Porazzi Games - Area Autoproduzione Booth
Hall 9, Booth 30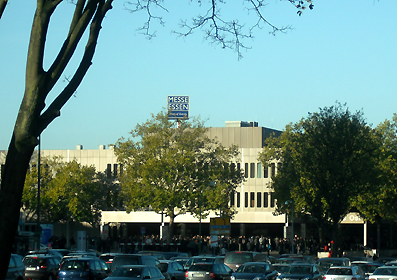 What a nice time whe had in EssenSpiel 2011! Beautiful weather with sunny days: this autumn either in Italy and Germany is really good. Here the huge Messe near the green GrugaPark, with the crowd entering the main entrance.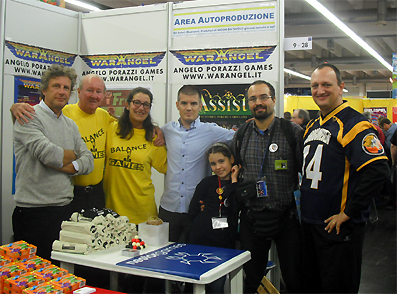 Inside, our usual, international Area Autoproduzione Booth in Hall 9: Giovanni Calcagno from Italy with PLAY THE SIGN, Bum van Willigen and Trudy Bax from Holland with BALANCE GAMES, Nestor Romeral from Spain with NESTOR GAMES, Angelo Porazzi the italian BGG Quarterback, with ASSIST.
Andrea Ligabue and his daughter are with us: Liga is an Italian journalist, member of International Game Award and of historical luding club Tre Emme Modena. He won the Warangel National Tournament back in 2005 and was so kind to interview me with many other journalist friends and communicators: you can find many of these interviews on my BGG page
http://www.boardgamegeek.com/boardgamedesigner/231/angelo-porazzi
Thanks to ALL of you!
In many interviews comes out what Area Autoproduzione is: Self-Production Area, an idea now invited and hosted in more than 40 Fairs, Schools, Ludoteques... More than 70 inscribed authors that love to create, illustrate and realize their boardgames. Sharing their knoweledge, art, sensibility and contacst with producers like Cartamundi or furnishers like Spielmaterial. Authors, illustrators, friends, mostly from Italy but not only: many are reaching us in many Italian Fairs: Ludica Milano, Play Modena, LuccaGames... Professionist and beginners joined together, as the subtitle says "The Authors, Illustrators, Producers of BoardGames, play together with you!"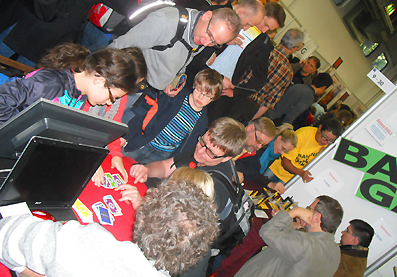 The fair begins and the halls are totally invaded by the crowd of gamers from allover the world. Area Autoproduzione tables work as usual: on fisrt line you see Gioca il Segno, perfect card game for children and families, appropriate to teach and learn maths by playing; behind the Balance Games from Bum and Trudy, always full of people waiting to try this "always moving" game:)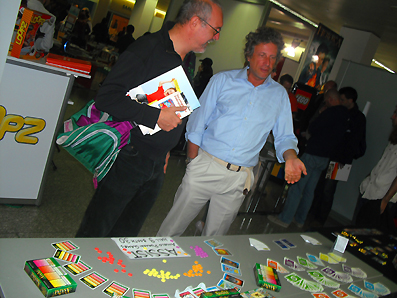 Here is Giovanni, author of Play the Sign, when I introduced him Silvio De Pecher, one of the founders of La Tana dei Goblin, the oldest and most complete website in Italy about Board Games. Our two games Assist and his Play the Sign are here shown on the Press Conference tables.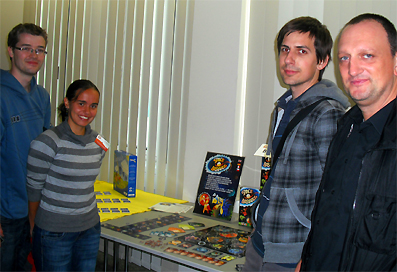 Where I also meet the author of Space Bastards: another excellent self-produced games designed by Jiri Mikolas from Praga. This group was right in front of us in the fair and is nice to meet such young authors making complete boardgames with good artwork and nice ideas like the one to shout "Space Barstards" when arriving at their booth, just to have a better price!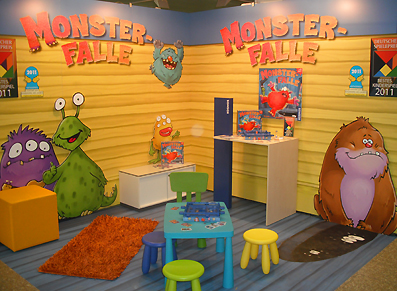 Monster Falle, awarded best children game of 2011, had one of the most coloured presentation booth: I like this simple game and his "cartoomics monsters" so much:).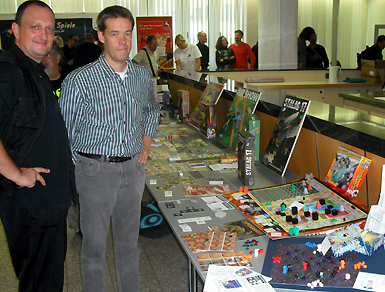 Here is Mr. Spielmaterial Harald Mucke, who is alsio Mr. Mucke Spiele. For him I illustrated the covers of Christmas Penguins and this year of Dreck Weg!. Here he is showing the games realized this year: Global Warning, Exposaurus and Urknall. On 2012, he will produce the first game not only illustrated but also designed by me for Mucke Spiele...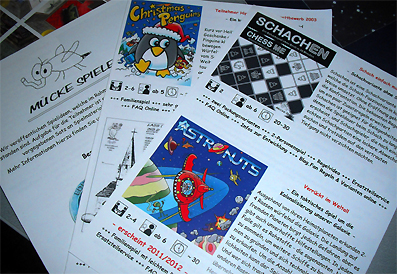 ... the title is AstroNuts, a funny star game of colonization and alien meetings, good for all family. Now it is up to Nicole Mucke to translate the french Rulesheet, Italian and German rulesheet are ready to print: we hopefully see AstroNuts printed in next Ludica Milano, 16-18 march 2012!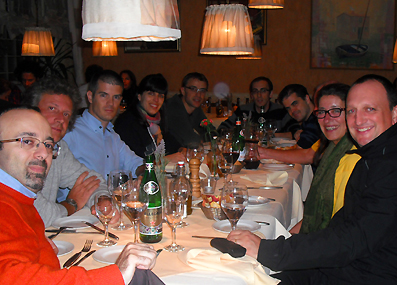 Fabio and Giovanni from Italy, Nestor, Silvia and Pepe from Spain, Bum and Trudy Bax from Holland, Angelo happy like a child 47 years old, for gathering so good luding friends from allover the world. Fabio is the founder of Giochi sul nostro tavolo, an italian blog that in last years is having big success because of this credibility that comes from its HONESTY to be COMPLETE. As soon as all of us will have the capacity to communicate each other, expecially who made professional luding journalism, think this luding world will go on better and better.
I always watch to results: if now we are invited and hosted in more than 40 Fairs, Schools, Ludoteques..., think that our way to communicate, create games, create contacts between people... is doing well:)
See you in next Con: here all the Area Autoproduzione meetings of a super busy 2011.
Next one: Area Autoproduzione at LuccaGames, thanks for the excellent presentation on their website!
To the next! All the best to all luding friends around our world! Angelo Porazzi