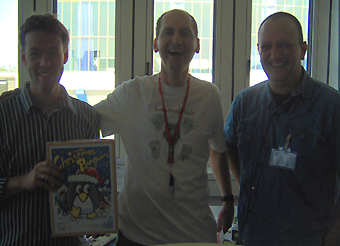 Harald Mucke, Fraser Lamont and Angelo Porazzi at Essen 09 Press Conference. Great guys and great time: I work with Harald as communciator and distributor for Italian Luding Fairs for his Spielmaterial.de. He is showing the box of his boardgame Christmas Penguins for which I illustrated the cover.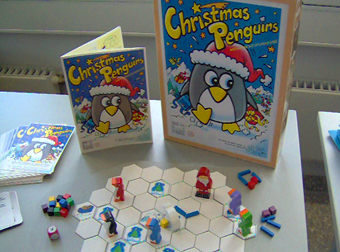 Here the illustration used for the box cover, the rulebook and the cards of Christmas Penguins, a cute and funny boardgame where you have to steal gifts... to Santa! Very happy Spielmaterial appreciated this illustration that is now in the section of my website dedicated to all illustrations I realized for luding world friends.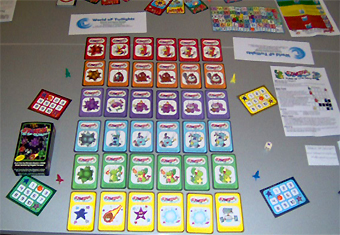 Another game you see in this section is StarTaxi of Giorgio Vezzini, one of the most active italian author in Area Autoproduzione. In one year he realized WOOSH! a funny, interactive card game on parachuters and StarTaxi, this easyest card game where you have to bring aliens families to their own planets: both games designed by Giorgio Vezzini, illustrated by Angelo Porazzi.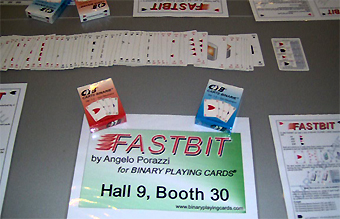 Other proud and optimal members of Area Autoproduzione: are the Binary Playing Cards of Alberto Baratelli and his team. They did an excellent workshop in the last Ludica Fetrsival of Games in Milano, managing lots of schools: you can see their great work in the PhotoReport. For Essen they called me to design FastBit, a simply and interactive game to be playable with their original deck of binary cards.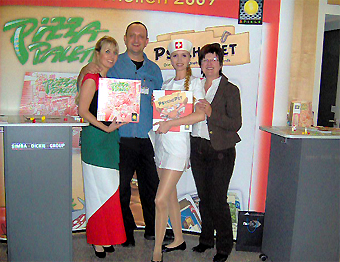 PizzaPaletti and PsychoPet, two nice, easy, coloured and cheap games of GoldSieber: together with the "Italian Flag" and the "Red Cross" you see... here we are with kind Gabrielle Rosshirt.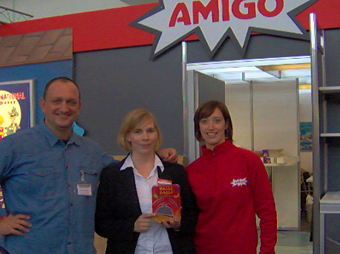 HalliGalli in De Luxe version realized by Amigo. Here with the always kind Andrea Milke And Lydie Perrandin. A very simple game good for everyone, demonstrated here in Essen by multicoloured brazilian hostess...:) Also the cocktail was very good and appreciated:)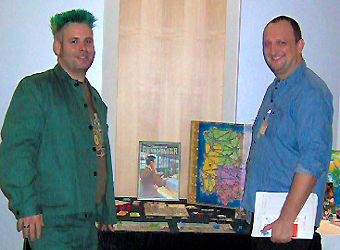 Friedemann Friese and his new Power Grid Factory Manager. Power Grid was awarded Best Italian Game last year in our oldest and biggest luding Fair: LuccaGames.
My old chap was awarded Best Italian Game in LuccaGames 2000, the first year where in Lucca was hold Indipendence Bay, dedicated to indipendendt game designers. This year 2009 Lucca Games and Indipendence Bay host Area Autoproduzione with many new authors: Here the presentation on Lucca website.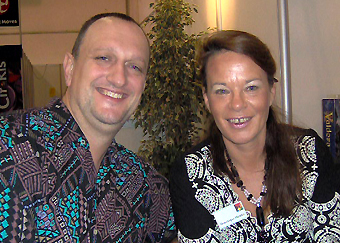 Dominique Metzler of Friedhelm Merz Verlag, the organization of Essen Spiel. This is a great person I had the pleasure to meet in 2009 after many Essen Fairs where I always introduced new italian authors year after year. Thank you Dominique and my compliments for the great organization you manage: an example.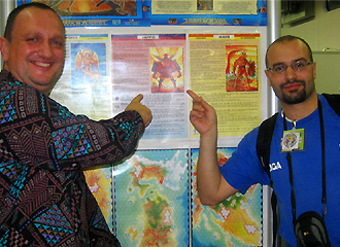 Andrea Ligabue, Italian journalist for BoardGameNews and historical member of luding club Tre Emme Modena. We are indicating together the Jappo with their Hokkaido map, suggested and dedicated to Antonio "Jappo" Musto, vice President of this Club and deep fan of Japanese mithology. These friends organize PLAY historical convention of players, where they host me as coordinator of Area Autoproduzione: also for PLAY 2010. I am friend of Andrea per years: he won the Warangel National Tournament back in 2005 and was so kind to interview me as 1st Italian Author on BoardGameNews. Concrete, competent, honest.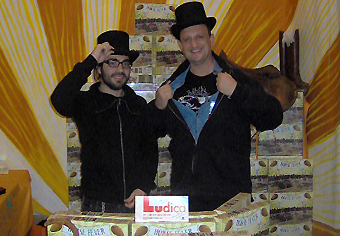 Horse Fever the brand new crazy game of Cranio Creations from Milano. The two designer Lorenzo and Lorenzo, also partecipated with their booth at the last Ludica Fetrsival of Games in Milano, where I meet them before this Essen Fair. In Few days all of us will be in Lucca Games.
At Essen you can also find these kind of rarities: another Horse Race much more beautiful than the boardgame above without horse counters...:) Just kidding...:).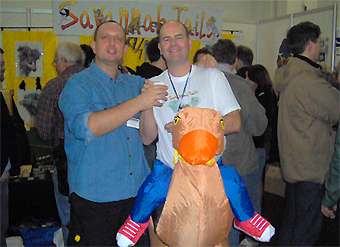 Gordon Lamont of Fragor Games riding his ostrich. Another crazy race boardgame, Savannah Tails is really cool: simple, intuitive and funny to play. Note: the Ostrich suit is NOT in the box;)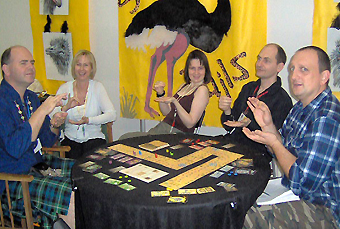 Having Tea with Fragor Borothers and their nice wives: these friends form together one of the most creative, familiar and nice GROUP to share an Essen Fair experience. Keep on the good work!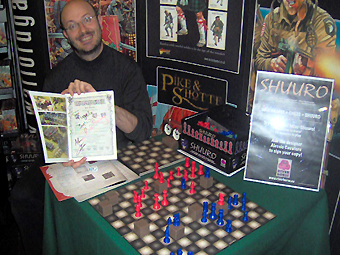 Alessio Cavatore and his Shuuro the game of creative chess I appreciate a lot, realized with Alberto Giusti for River Horse. He was really kind bringing for me the rulebook of Warmaster signed by himself and Rick Priestley he work with in Games Workshop.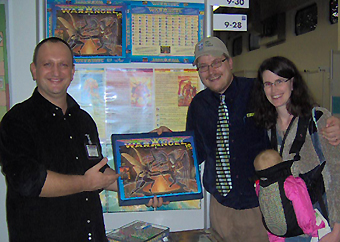 And here, maybe the most appreciated visit in all these editions of Essen: after years of nice emails I finally met Tom Vasel in person:) And his wonderful wife of six sons: Vasels Hits Porazzis 6-3!:). The Map Collector for him is to contain the number of Warangel maps he owns and the latest games such as ULTIMATE sold out last year and the newest PiFroG. On his website The Dice Tower still lives the first deep Warangel Review received from a gamer "out of Italy". He knew the old races and was impressed by the new round cylinder with "ready toi play" races of Create YOUR Warangel: thank you dear friend for all these years of honest and competent luding communication.
ESSEN SPIEL 09
21-25 october 2009
Angelo Porazzi Games Booth
Hall 9, Booth 30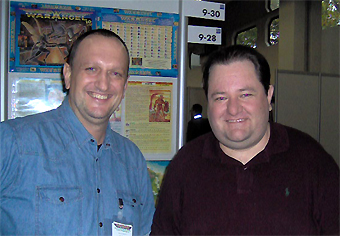 Angelo Porazzi with Aldie, that means Scott Alden, the founder of BoardGameGeek.
I was really pleased of the visit at my booth of som many VIP of the luding world.
This was first Essen for Aldie that show kind and openminded since many, many years ago, in a galaxy far, far away, wrote me this: "I think that it's fine you've hit the top 10 and you are welcome to link such information on your website. Thanks!".
Thank to you dear friend: it was 2003, 6 years after the first Edition of old Warangel: a gamer subscribed the game on BGG and "the old chap" was first Italian game to hit the 3rd place of BGG when the games where "only" 490: the number of subscription of Warangel.
Now BGG counts over 57.000 games !!! and Warangel counts 115 races !!! suggested by gamers from allover the world with the idea Create YOUR Warangel. It is a real pleasure to meet people able to realize things that hold on and grow in the years, respecting gamers and following gamers' ideas, hints and energy.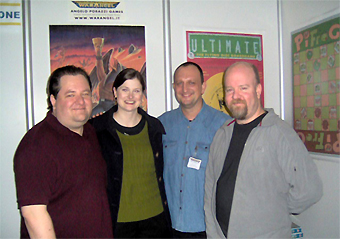 Aldie, his wife, Angelo and Derk Solko, the other "UberGeek":). BGG at Angelo PorazziGames booth. Thank you dear friends for your visit and my compliments for the great work you do. Being a 126,5 rating point Quarterback of old 1986 Milano Pythons, I appreciated so much your BGG American Football T-Shirts, really cool. I want the # 14;)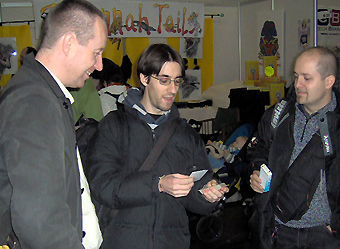 Jon Power, "EYE of NiGHT" on BGG, is the nice chap who took my first picture on BGG maaaany years ago, at my first Essen Fair. He is kind enough every year to come and visit. Here he is listening the introduction of FastBit by Dario Cazzani and Alberto Baratelli, two of the authors of Binary Playing Cards.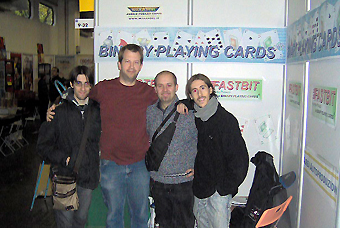 Nick Medinger of Funagain, one of the the US retailer that together with Boards and Bits or FairPlayGames have my games in US. Remember when on 2005 FairPlayGames has on his chart of Latest New Addiction Warangel # 1, TATATA! #2, PeaceBowl #5. Those were the days:) All Home Made Games I enjoy create and illustrate.
Now my duty and honour is to introduce new Italian Authors who partecipate in Area Autoproduzione (SelfProduction Area) to all these friends, retailers, distributors, who did and do a lot for the gaming world.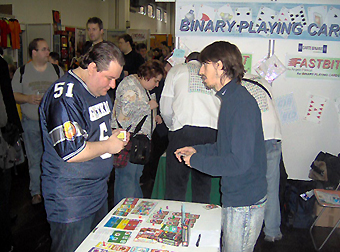 Aldie with the amazing Football T-Shirt of BoardGameGeek listening to the rules of WOOSH! directly from the author Giorgio Vezzini. To contact each author who partecipate to Area Autoproduzione just click the presentation page where you see all of them with their own website: just write us and we can send at your home, worldwide, any game of your interest.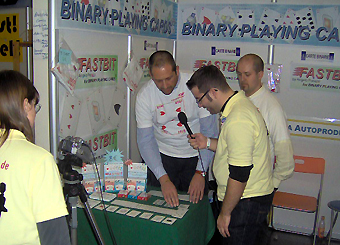 Andreas Buhlman and the camera of Cliquenabend.de interviewing Stefano and Alberto of Binary Playing Cards. Thank you Andreas for choosing me many years ago as first Italian author interviewed on your nice website. At Essen 2009 all authors at Angelo Porazzi Games Booth were interviewed by kind Cliquenabend.
The latest game of Walter Obert that had here in Essen Strada Romana and this crazy, funny game I have seen since his very first prototype. Nice work!:) My compliments also to Vasco de Gama of Paolo Mori that reached the n.1 position of preferences in the FairPlay chart: excellent result that keep all Italians really proud: BRAVO. Results count: if someone arrive 1st, there must be a reason;) If someone wins I simply say my compliments.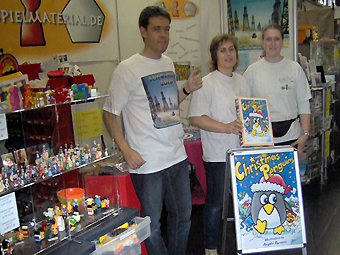 SpielMaterial.de booth and staff: Harald, Nicole and Carmen: you can note on the left the brand new handpainted marvellous pawns you can request with any face-character and the two boardgames they realized: ShwarzesGold and Christmas Penguins. See you next year, dear friends, thanks for the nice dinner all together:)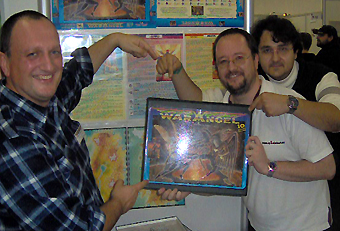 Thank to the kind contact of Dagmar Weiss who wrote me before the fair, and here in Essen appreciated so much the new PiFroG, also David Poppel and friends of Spieletest.at meet me and were impressed by the old chap Warangel. Many of the new races Angels, Jappo and Maya was picked up together with Spartans and Persians of last year, together with all the races of old Generations.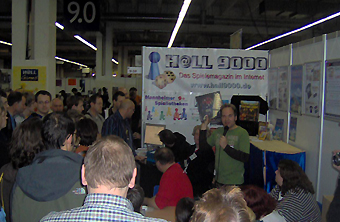 Jost Schwider and the Giro d'Italia Ludico, host at Hall 9000 booth. Here Jost is showing Shuuro of Alessio Cavatore, another italian author I introduced to SpielePizza.de this year. Try to guess in which booth SpielePizza and Giro d' Italia Ludico was born back in 2006? Check it here;).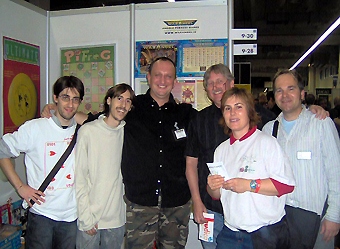 Dario representing Binary Playing Cards, Giorgio with his WOOSH! and StarTaxi, Angelo the Quarterback, Manfred Rompkopf of Spielerei.de, Nicole of Spielmaterial.de, Jost of SpielePizza.de and Giro d'Italia Ludico. A nice picture that gather in a click the essence of this Essen Fair for me: good time with good people: co-working, having fun, and communciating each other.
Many, Many thanks to all the people, friends, gamers who meet us at our booth always in Hall 9, Hope you enjoy Italian Games and Italian authors as I enjoy stay in Essen:)
Can't remember all the people I have the pleasure to shake the hands not mentioned in the PhotoReport: Want to thanks to Eric Martin of BoardGame News, the collegues and friends Andrea Chiarvesio, Pierluca Zizzi, Mario Sacchi, Paolo Vallerga, Paolo Carraro, Roberto Petrillo, the trio Di Meglio-Maggi-Nepitello, Cyril Demaegd, Monsieur Phal, Chris Boelinger, Rick Soued, Will Neibling, Zev Shlasinger, Gunther Schmidl, Michelle of Boards and Bits... Christian Lemay who brought me two WONDERFULL Ultimate discs from Canada!
Simply impossible to list all friends you meet in an Essen Fair:
they are too many!:)
See you in next Cons: here all the invitations of 2009
Next one: Area Autoproduzione at LuccaGames!
To the next!
Angelo Porazzi