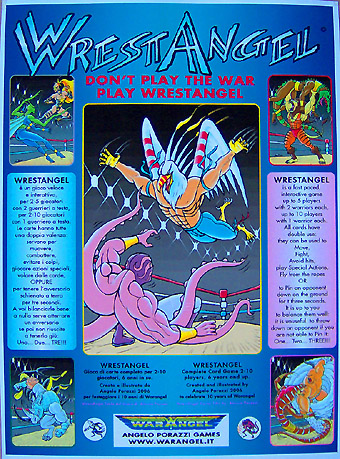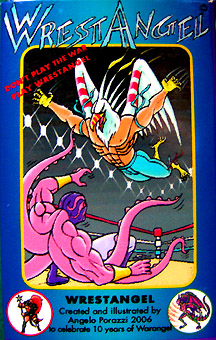 WRESTANGEL
DON'T PLAY THE WAR
PLAY WRESTANGEL
Available with Italian, English, German Rules
WRESTANGEL is a fast paced, interactive game for up to 5 players with 2 warriors each, or up to 10 players with 1 warrior each. All cards have double use: they can be used to Move, Fight, Avoid hits, play Special Actions OR to Pin an opponent on the ground for a three seconds count. It is up to you to balance them well: it is not useful to Throw down an opponent if you are not able to Pin it: One, Two... THREE!!
WRESTANGEL Complete Card Game 2-10 players, 6 years and up.
Created and illustrated by Angelo Porazzi 2006 to celebrate 10 years of Warangel.
WrestAngel Game Title by Alessia Porazzi
WRESTANGEL is now available, price 10 euro.
For any info and orders anporaz@libero.it
On the left: the advertisement sheet and the box cover.
Official Presentations and tournaments:
MiniMod 2006 Modena
LudicaMente 2006 Mantova
La Citta' del Gioco Ludoteque, Milano
WRESTANGEL reviewed by Rick Partin
Many thanks to the deep and excellent review of Rick Partin he published on these US websites
"A lot of fun in a small package: A review of Wrestangel"
On BoardGameGeek - On ToughtHammer - On Funagain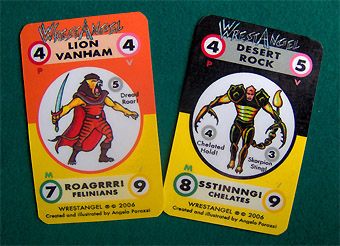 Two of the 20 Warrior Cards included in the game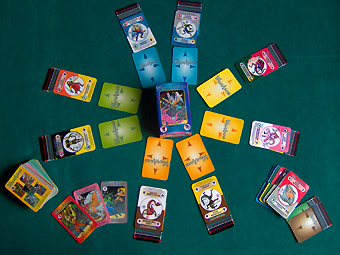 Ring Cards prepared for 4 players, 2 warrior each.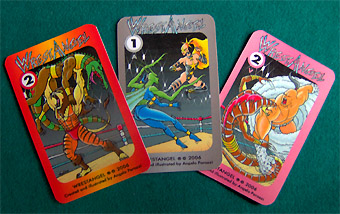 Deck Cards. When you play a Deck Card you ACTIVATE one of your Team warriors. ADD the number on the Deck Card to the number OF THE SAME COLOUR on your Warrior Card you choose. Example: I play Power 2 and my warrior has Power 4, my Total Power will be 6 for that Close Combat. The Defending warrior does not know the attack: he may defend by trying to counterattack, trying to resist by upgrading his Vitality or just moving away amid the howls of the audience.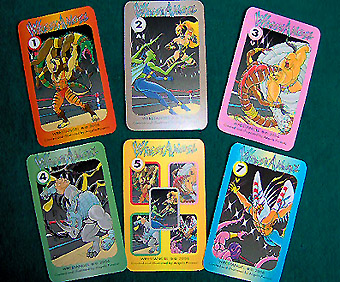 The six types of Deck Cards represent the actions that can be used in WrestAngel. Upper Left: POWER red number, upper center SPECIAL ACTIONS gray, upper right VITALITY pink, lower right MOVEMENT green, JOKER orange, lower left FLY FROM THE ROPES, yellow number that when played is summed to the yellow VALUE of the character, threreby creating a devastating action.
WRESTANGEL TOURNAMENT RULES
PRESSURE - WrestAngel is a compulsive and goliardic game just like PeaceBowl or TATATA!. When playing a Tournament with your friends, after a little practice with basic rules on your rulesheet, apply also the PRESSURE, to have a fast and furious game as WrestAngel is supposed to be. When you begin your turn, other players may start a countdown crying all together or alternately: 10-9-8-7-6-5-4-3-2-1... SBAMM!! If in 10 seconds you do not play your card, you lose your turn. If you play your card within 10 seconds you stop the countdown: scream your WARCRY! looking at the opponent you choose to attack and, just after you've completed your play, you can start counting down your pressure on that opponent!
COMPONENTS
1 Deck of 84 Cards comprising:
- 20 Warrior Cards to give you the best choice of wrestlers. Each Warrior Card has a side with a coloured background and English text and a side with white background and Italian text. The white background is created to give gamers a perfect reading of coloured numbers representing the basic actions in this game. These numbers are always in the same position on the Cards:
Upper Left: Power, colour red
Upper Right: Vitality, colour pink
Center: Actions, colour gray
Lower Left: Movement, colour green
Lower Right: Value, colour yellow
Each warrior has his own WAR CRY which you have to scream each time you declare an attack. Do not reveal your kind of attack, just scream your war cry while looking your target and playing your Deck Card covered. Only when Defender place covered his defensive card, attacker and Defender reveal together their covered cards, at the same time.
- 20 Ring Cards to create your Ring perfectly balanced from 2 to 10 players. In the example on the left, see a match ready to start for 4 players with two Warriors each. Warriors are placed on external Ring Cards, named Rope Cards.
- 42 Deck Cards
- 2 Advertising Cards
- 1 Rulesheet
Goal: to throw down your opponent and Pin him. This means keeping them down on the ground for the three seconds count. Each pinned warrior is eliminated. The player who wins the pin phase keeps the pinned Warrior Card.
In the Pin phase only the numbers (NOT colours) on the Cards count. Both attacking and defending warriors play in sequence, three Deck Cards that represents the three seconds of the count. For the defending warrior it is enough to win one second on three to escape the pin phase and get up. To win, the attacking warrior must EQUAL or EXCEED all three seconds. That's why you have to attack at the right time, stacking cards with high numbers in your hand. Deck Cards go from 1 to 7 so the perfect attack is 7, 7, 7, hard to see; a very good attack is a 5, 6, 7 but you may also try to attack with lowest number, that is one of the nice aspect of the game. You have to risk your attacks: see which opponent has fewer cards and try to attack him!
Victory: When both warriors of one Team are eliminated, the game ends. Each Team counts the Value Points on the Warrior Cards it owns: its own warrior standing in the ring and opponent warriors eliminated by the Team. The Team with the most Value Points and with at least one Warrior standing in the ring, is the winner.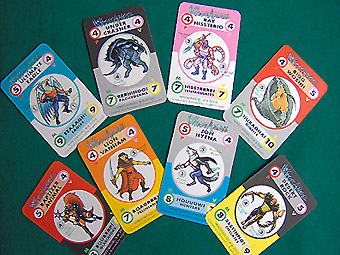 Eight of the twenty characters available in the game: ULTIMATE EAGLE, UNDER CRASHER, RAY HISSTERIO, BIGG WOSHH, BAPTIZER ANIMAL, LION VANHAM, JON HYENA, DESERT ROCK. They all are inspired by real fighters that I appreciate a lot for spectacular moments they have given us. Now they are transported in the Animal-Fantasy universe of Warangel, by playing WrestAngel!
WRESTANGEL TOURNAMENT RULES
BASTARD JOKER - When you play a Joker and show it together with the opponent card, you may decide your action AFTER you have seen the opponent card. If both players are playing a Joker, the one with the lower number must declare his choosen action first. Furthermore, when you are playing a PIN phase, if you play a Joker and an opponent plays a card with the same number, the Jocker wins!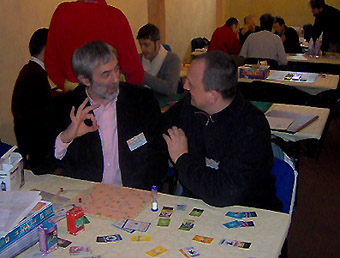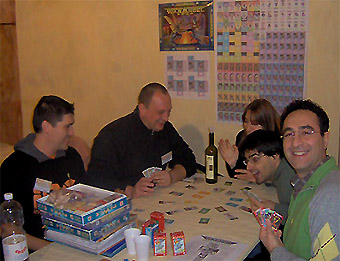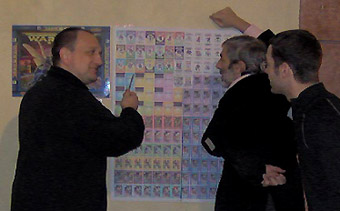 IDEAG 2006
Authors Gathering
First WrestAngel prototype was presented at ModCon Modena 2005. Final prototype, complete with 70x100 test print sheet, was presented at IDEAG Piossasco on 14-15 january 2006, where I was hosted for second time by kind organizator Walter Obert, at my side in first picture.
The game was played by lots of gamers and authors that appreciated clean mechanism, graphic artwork, great interaction among players that may activate also during defensive phase. Always breathless and funny the Pin Phases with lots of bluffs and sequences of really high but also very low, winning numbers.
For who is interested in opinions of other gamers and authors, IDEAG is really usefull: one of the best idea is that after each test you can report on a sheet your votes from 1 to 9 and suggestions to improve each single game presented.
Here are impressions collected by WRESTANGEL at IDEAG 2006
easy - complex from 1 to 9 = 3,3,2,3,2,4,3,2,4,4
lead by luck - by ability from 1 to 9 = 2,7,7,6,4,7,6,4,6,5
boring - passionating from 1 to 9 = 6,7,7,6,8,8,7,7,7,8
not original-very original from 1 to 9 = 7,8,8,7,7,7,6,7,7,8
bad - nice from 1 to 9 = 8,7,8,9,8,8,8,8,8,7
title is not good - good from 1 to 9 = 5,9,9,9,8,7,9,8,8,7
Rules are not clear-clear from 1 to 9 = 5,7,7,8,9
After one year of playtest also this game is ready to go on print. On the left one of the meetings around the classic 70x100 print sheet to check colours, optimize formats, all elements you need to know when you create a game following each single production phase: from idea, to illustrations, to printed game.