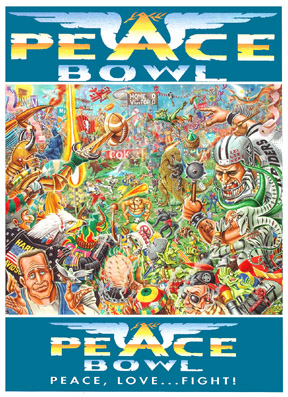 PEACEBOWL
Crazy Football for the Peace. Peace, Love... Fight!
In this Fantasy Arena everybody can get in and enjoy fighting, but outside, please, stop the war. You, slobbering Goblins, stop spitting and you haughty Half-Elves rise down your crest: don't you realize you are on the same ship? If you keep on playing war, it will be the end for everyone.
Here you can meet in merry, enjoy fighting and then smoke the Peace Calumet all together, drinking the best Dwarves' burp-beer and breathing the best incenses of the Flying Smokers of the Impossible.
PEACEBOWL is a fast paced tactic game for 2-4 players.
Each one leads a TEAM composed by 3-5 WARRIORS.
Everything is allowed: play cards HIT! to takedown opponents, play card PASS! to launch the ball at your receivers allover the gamefield, break out a fray playing the card RAGE! As long as remains in a boardgame, a good fight could be a real amusement.
Enjoy hit and be hit, and have fun! Peace, Love... Fight!
PEACEBOWL created, illustrated ancd produced by Angelo Porazzi 2003
PeaceBowl is now at its 2nd edition, is available in a strong, boxed edition, game field, rulebook, cards and counters all plastic covered, plus woodcounters. All cards have double text italian-english. English and German rues are included in the box. Price 15 euro.
For any order or question feel free to contact me directly: anporaz@tin.it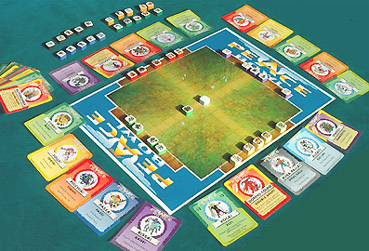 COMPONENTS

1 GAMEFIELD illustrating the PeaceBowl, the arena where your teams will match.

THE COUNTERS pre-cut and plastic covered, illustrating the warriors of the Peacebowl. You'll have warriors in great number to create your team as you wish.

THE WOOD COUNTERS to build up your favourite teams and release tridimensional painted counters.

THE CARDS illustrating all the actions that may be played by your warriors.

1 RULEBOOK with Basic Rules (3 warrios per team, uncovered cards) and complete Rules (5 warriors per team, covered cards).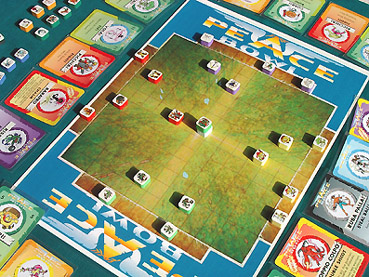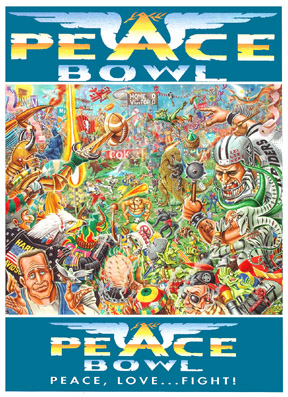 OBJECT OF THE GAME
You have to score "touchdowns" in the enemy endzones.
That means place a your warrior with the ball in one of the three opposite endzones.
Examples: a your warrior takes ball and run in an opposite end zone. Or a your warrior runs in an opposite endzone and there receives the ball launched with a pass.

The endzone in front of yours gives you 3 Points.

The two side-endzones gives you 1 Point.

First team that scores 7 Points wins.

In the Picture the Goblins' Master (winners of first playtest tournament) grabbed the ball and is going to run in the opposite endzone, defended by Half-Elves.
Dealer gives 5 action cards to each players: with Basic Rules Cards rest uncovered, with Complete Rules you play with covered cards and the games becomes much more funny because anyone can no more foreseen enemy interactions. Infact many card may break opponent sequence of play, during enemy turn. More, with Complete Rules you play with Special Cards (as the DOUBLE SHOT you see in the right corner) that always offer different ways to be used. Its' up to you to choose the best one in each situation of game.

Enjoy!! Peace, Love... Fight!

PEACEBOWL: TOURNAMENT RULES

These rules are excellent for tournaments and gamers who want to enjoy PeaceBowl in the best way, quick and nasty, use them when you know well the Basic and Complete Rules:)

PRESSURE As soon the dealer give the 5th card to a player, other three players may begin the PRESSURE, counting: 10, 9, 8, 7, 6, 5, 4, 3, 2, 1... SBAM! Within 10 seconds the palyers in turn must place on the table the card he wish to play or he looses that turn. Numbers must be counted alternatively or "in chour" by other players, it is important that all other players "pressure" the one who is slowing down the game.

PRESSURE'S BLOCK One of the players may "Block the pressure" saying "BLOCK!". Other players may re-start the countdown from 10. Bastardly the player who former say Block, may now normally join the countdown.

VIOLENCE! The peacefull audience of PeaceBowl deeply dislikes the cowardly teams who dare to score sideline touchdowns. Audience and fans come in teh Bowl for glory and braveness, for spectacular 3 point TouchDowns, scored on the face of the opposite team. So if a Team who score a sideline Touchdown of only 1 Point, the PeaceBowl audience acts in this way:

If the scoring Team has only 1 warrior standing and the other 4 knocked down, the player at his left draws 1 card: This represents the objects throwing from the Bowl stands by the howling audience: pieces of the stadium, souvenir weapons, other teams' fans easily laucnchable. If this is an offensive card (Fight, Rage, Steal Ball or Special Card), the standing warrior is Knocked down.
The touchdown is realized but at next action the Scoring team will start the game with all its players "sleeping".

If the scoring team had 2 warriors standing up, 2 cards are drawn, if the scoring team has 3 warriors standing, 3 cards are drawn and so on. For each offensive card drawn, a new warrior is stunned. The player who lead the team decides wich warrior turn face down.

In the end: play with courage and glory and the audience will love you; play cowardly and the audience will play VIOLENCEEE!!!:)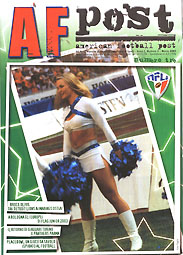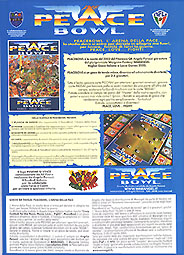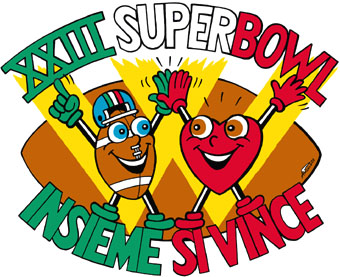 PEACEBOWL and AF POST
Created by Matteo Incerti, AF Post is nowaday the most complete and coloured magazine we have in Italy about American Football.

For me, an "old" quarterback, is a great pleasure to see the born of this magazine that is linking together lots of old and new players, and that wish to re edit my old comisc about "Italian American Football", once published on "mythical " magazine "Superbowl" in the years '8O.

These comics have the same hironic verve you can find in PeaceBowl and the same love and passion for this sport I had the pride to play in its pionieristic period here in Italy. You can see them here

http://space.tin.it/giochi/aporaz


What AF Post writes about PEACEBOWL

Really easy, interactive and funny it is enjoiable by most passioned experts but also by fiances, wifes and childs, main characteristic for a society-table game.

PEACEBOWL and XXIII SUPERBOWL
PeaceBowl will be special guest at XXIII Italian SuperBowl.

I had the honour to create the LOGO for this event. Due entire day is dedicated to" Lega del Filo d' Oro" that helps childs with serious illness, the name of Logo is "Insieme si Vince" that is "Together we can Win"

This is the report on AF Post:

The Logo INSIEME SI VINCE commissioned by AF Post - NFLI and realized by Angelo Porazzi. Italian Football for solidarity': Force and Heart together to achieve any victory.