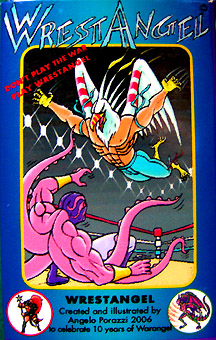 WrestAngel box cover. Find Here the Tournament Rules we applied starting from this demo Tournament that is best way for a brand a new game to be known.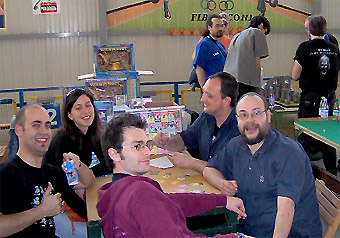 From left the couple from S.Marino Luca Berardi and Sara Bologna, Michele Mura and King Sargon from Pisa. Beside Sargon Angelo Porazzi and on other table Liga and Marchetto Lorenzao staring wonderfull minias and scenarios of Manor House.
All matches were with 4 or 5 players. My advice is that with 3-5 players WrestAngels keeps a good playability that controls quite well luck factor due is hard to collect in your hands tris with 7,7,7, much more easy when you play in 2 players. You can play WrestAngel also in 6-10 players with only 1 warrior each in a crazy royal rumble, best suited for a goliardic elimination match. For your tournaments, I suggest two warriors per player and tables with 4-5 players, like this.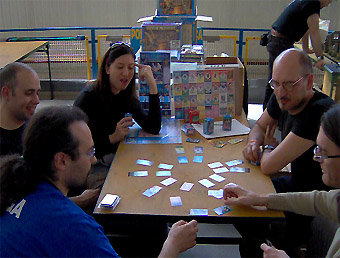 Liga, Luca, Sara, Mezzo and Andrea Nini, "Nand" on BGG.
On the table the nice cup that club TreEmme offered for this Tournament. Here you see some members of this historical gaming club: From the left, behind Angelo is Marco "Spento" Barozzi, Andrea "Keps" Cupido, Roberto "Smilzo" Fontana, Andrea "Liga" Ligabue.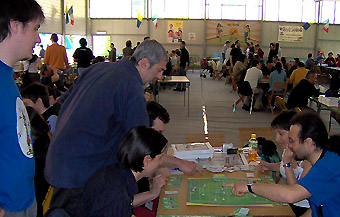 From left Mario Sacchi Post Scriptum for wich I illustrated his first game BauSquitMiao, in the center Walter Obert showing his new game prototype about soccer.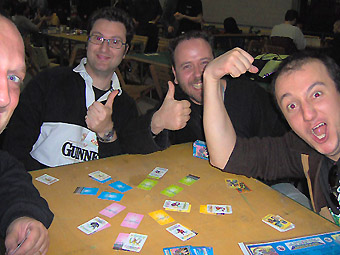 Angelo, Fabrizio Zib Bonifacio author with Lord Max of Si' Oscuro Signore, Marco Paroli and Francesco Iori all members of Flying Circus. Four different towns, Milano, Torino, Roma, Modena but same luding passion and goliardic, interpretative, madness that put together people who know how to enjoy together. Great interpretation of Marco that with his perfect werewolf howlings of his "Jon Hyena", gloriously won this match:)
Post Tournament, here is a statistic of most selected warriors, shown in cronological order and with total number of chooses. Nice from my point of view due I illustrate these characters, to see how gamers identificate in various animals in different ways. Following the name of the warrior, or just for empathy watching the illustration, or choosing races of Warangel they love that now fight in this animal-fantasy sport called WrestAngel!
Victory Hold, ManthisWoman, Insects, 4
Jon Hyena, WolfMan, Hunters, 7
Terry Wisdom, WingedWoman, Dreamers, 8
Dawn Fire, DragoonWoman, DragonWomen, 11
UnderCrasher, RhinoMan, Pachyderms, 9
Lion VanHam, LionMan, Felinians 5
Hooker Nile, CrocodileMan, Egyptians, 8
Hulk Hogre, Ogre, Chaotics, 9
Baptizer Animal, Gladiator, Gladiators, 7
J.Bull LongHorn, Minotaur, Taurians 4,
Ray Hissterio, OctopusMan, Tentacled, 6
Sharmesia, RaffesiaWoman, Flowers, 5
Alisha Stars, StarWoman, Stars, 8
Eddy ToadSplash, ToadMan, Amphybians, 4
Bigg Woshh, GiantHurricane, Giants, 6
Ultimate Eagle, EagleMan, Eagles, 4
Jess the Snake, SnakeMan, Snakes, 6
Desert Rock, SkorpionMan, Chelates, 4
Nihydria, HydraWoman, Hydras, 3
Bush Jump, KangarooMan, Australs, 2
MINIMOD 2006
22, 23 april 2006 - Modena
Official Presentation and Demo Tournament of
WRESTANGEL
Here you see the wonderfull fall of flowers that sorround the nice location of MiniMod in Modena, near F1 Imola circuit where Ferrari is winning its first 2006 Grand Prix;)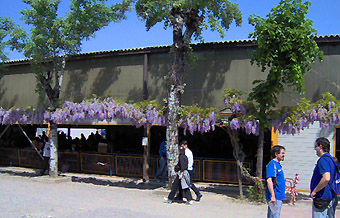 A big thank to all organizers of TreEmme club that since 2000 work for italian luding world with passion and competence. Just want to personally thank with their nicknames all this friendly people that host me here and at ModCon in september every year: Ciuffo, Keps, Liga, Panki, Smilzo, Lo Scuro, Vigiak ...
Thanks to you all, indeed
Angelo
Here follow names of all gamers who partecipated this WRESTAGEL first Demo Tournament
at MiniMod 2006

Name Surname - Victory Point - Value Point
Marco Paroli - 3 - 26
Francesco Iori - 4 - 41
Fabrizio Bonifacio - 2 - 23
Gianluca Sparacello - 2 - 17
Andrea Bentini - 4 - 35
Enrico Malpezzi - 2 - 16
Luca Berardi - 4 - 54
Sara Bologna - 6 - 66
Andrea Sargon Cupido - 0 - 8
Michele Mura - 0 - 15
Andrea Nini - 2 - 24
Mezzo - 0 - 7
Andrea Liga Ligabue - 6 - 64
Federica Parvati - 2 - 15
Niccolo' Ricchio - 3 - 23
Enrica Prazzoli - 0 - 0
Massimo Lusignani - 2 - 23
Riccardo Caneba - 4 - 49
Roberto Smilzo Fontana - 0 - 8
Marco Spento Barozzi - 2 - 17
Andrea Keps Cupido - 1 - 16
Paolo Mori - 3 - 22
Lorenzo Trenti - 2 - 16
Alessio Baldini - 8 - 68
Simone Colombo - 6 - 70
Mario Sacchi - 3 - 27
Mirko Orlandi - 2 - 16

About 5 players who gained final match on Sunday 23, see below:)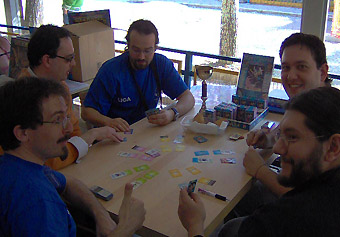 Riccardo "Miszka" Caneba from Roma with record of 36 points in a single match, beside Massimo Lusignani from Piacenza, Andrea "Liga" Ligabue from Modena, Alessio "Falco" Baldini from Ravenna with a total of 8 Victory Points and Simone Colombo from Legnano with a monstrous total of 70 Value Points during qualification matches.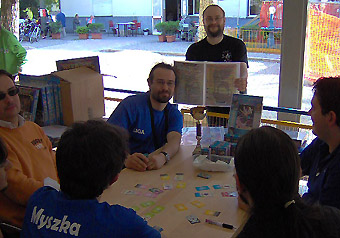 Andrea "Sargon" Cupido shows with pride image of his Adad CentaurBull on background of new Warangel 10 Years Edition Rulebook. Nice to remember gamers such as Sargon or Liga in a 10 years old game and nice to see their eyes when staring at the brand new rulebook:)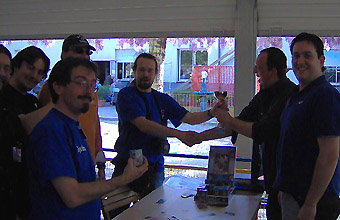 After a die-hard final match where Simone resisted to a number of pin actions, team of Liga rests only with Alisha Stars. With an intermediate tris of 4, 5, 6 he dares the attack against opponent who just eliminated the teammate Ray Hissterio (with a huge 3, 7, 7) and incrediblely he gains vicory among howls of audience.
After Warangel 6th National Tournament, played here in ModCon 2005, Liga wins and with glory first demo tournament of WrestAngel at MiniMod 2006. Here stats of final match and its historical players, Victory Points and Value Points:
Alex Baldini from Ravenna with Undercrasher and Lion VanHam
1 - 16
Simone Colombo from Legnano with Terry Wisdom and Baptizer Animal
2 - 17
Andrea Ligabue from Modena with Alisha Stars and Ray Hissterio
3 - 26
Riccardo Caneba from Roma with Ultimate Eagle and Hooker Nile
0 - 15
Massimo Lusignani from Piacenza with Bush Jump and Dawn Fire
0 - 7

And the winner is... with 2 pins, 26 Value Points and 3 Victory Points
ALISHA STARS
of team owned by Andreaaaaaaaaaa LLLLLigabueeeeeeee!!!!!!