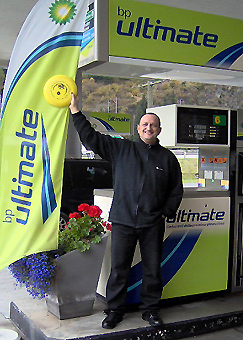 The advertising for ULTIMATE (the boardgame dedicated to the sport of Ultimate Freesbee), starts from the S.Gottardo Pass in Switzerland, where we found this huge gas distributor with the same name of the boardgame and sport:)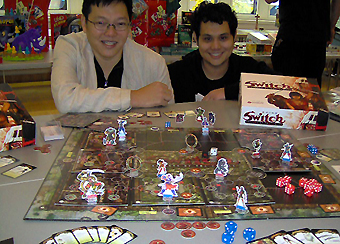 At the press conference of Essen you have the nice occasion to meet jouralists and of course dozens of other authors-selfproducers who enjoy create their own games. Here we meet the xcelent Switch realized by Dean Tan who runs Outplay together with Hafiz Izwan from Malaysia.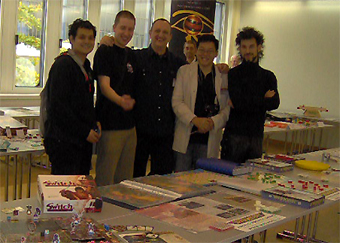 All together, authors and self producers from allover the world: Dean and Hafiz from Malaysia, Angelo and Marco from Italy and at my right. Maciej Zasowzsky designer of many good games: Wjpas for families, Wolsung and Rice Wars more for gamers.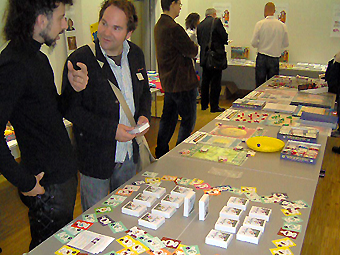 Jost Schwider creator of SpielePizza and Giro d'Italia Ludico. Jost is a dear friend that call me to design the logo of his website and to communicate his idea among Italian Luding community. Now his website in german and italian collects many italian authors and illustrators that you may met in person in Essen.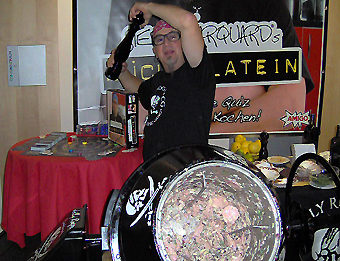 Stefan Marquards was one of the main attraction of the press conference. With his Quiz Game abount cooking Kuchenlatien he delivered tons of real food to all the Journalists and authors around his booth. Veeeeeery good, thank you Stefan:)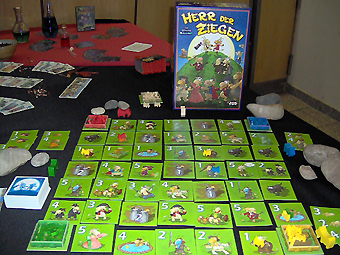 At tables of Amigo I found the game that impressed me more as graphic at Essen 2008. The illustrations of Herr der Ziegen are really cool and uses Goats as I used Porks in my 2007 Card Game Love Pigs. Here you can find Goats in every stile, like Elvis, like Superman, I appreciate a lot this style. And also kind Andrea Milke of Amigo for gifting me this nice boardGame together with Tanakee.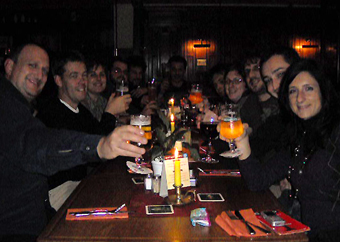 The dinner together with Friends of SpielMaterial.de that has now a partnership with my Warangel.it As you can see on their website, Angelo Porazzi Games is now "Communicator and Distributor for Spielmaterial in all Italian Cons" that host me and Area Autoproduzione. Here the list of the many Cons I was hosted in 2008.
Angelo, Harald and Nicole of Spielmaterial having a relaxing dinner after a hard day of work. In the picture above my Camper Friends and also Elena Stafano Project manager of Ludica where I will organize the greatest Area Autooproduzione in Italy: 200 mq, 30 tables for all new authors.
ESSEN 2008
ULTIMATE Sold Out on day 2
Create YOUR Warangel - Spartans and Persians
Sold Out on day 3
TATATA! and WrestAngel
picked up by FRED Distribution USA
The looooong and winding road from Milano to Essen, in Camper with the friends of Amici Ludici Mantova, Marco Valtriani of Creatori di Divertimento from Pisa and here arrived in Essen we receive the visit of some friends of La Tana dei Goblin from Rome. Half of the Luding Italian world was here in Essen.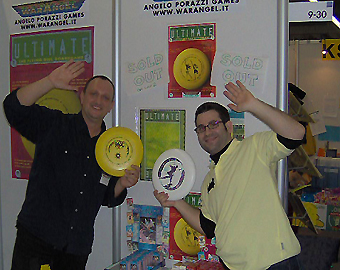 Andreas Buhlman of Cliquenabend.de realized a very deep Essen 2008 preview and a complete interview for me as 1st Italian Author on his nice website. Here I have the pleasure to thank him in person and know him on day 2 just when the last copy of Ultimate was sold out:)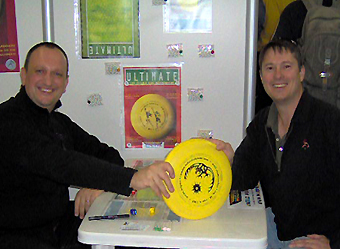 I was impressed of the number of gamers that are also playesr of Ultimate Freesbee, the real sport. This is Eugene Zehner, US origin, living in Germany, same age, and both Ultimate coaches:)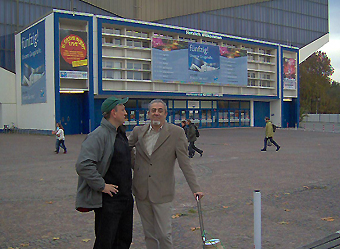 Here with author Walter Obert in front of the GrugaHalle, close to the Essen Fair. Here the Tokyo Hotel German Rock Group exibithed just after the date at the Forum Milano. A huge Location like this one, is the FORUM that will host the first edition of Ludica Festival of Games on 21-23 november in Milano. I was called to coordinate also there the Area Autoproduzione (SelfProduction Area) to gather together the many author that enjoy creating their own games. I brought in Ludica not only them but also Hasbro Italy or NewMedia Disney and now I am Consultant for Press, Booth of this Festival. If you wish to come, just contact me:).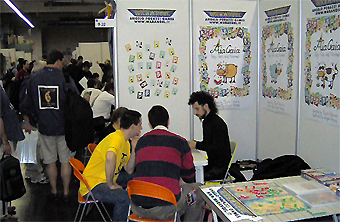 One of the author you'll met in Ludica is Marco Valtriani from Pisa that presented here in Essen his first Card Game I had the pleasure to illustrate: AiaGaia. It is a funny, fast, interactive card game ood for all the family.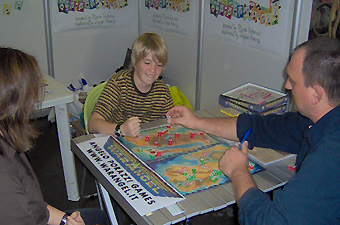 On day 3 also all the boxes of 12 years old Warangel sold out and, as for Ultimate, also the demo copy was sold. Here is the last two armies of Spartans and Persians in action. Garrit from Germany is a 14 years old boy that is absolutely at the level of Leonidas, leading his Spartans, while I was leading the Persians of Xerxes. His mum came back to the booth at the end of the fair to pick up this demo copy with the maps of Thermopylae and Persepolis. This is the point of Create YOUR Warangel: you can pick up the Races you like, the Maps you like and take what you like, also ordering through the net, shipping worldwide, any day. Any game you find on www.warangel.it:)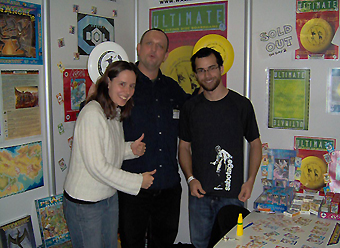 Here is the sweetest souvenir I had from Esssen 2008: the White Freesbee of Melanie from Canada, real Ultimate Freesbee player just like Christian Lemay that is showing the Ultimate T-Shirt of his team. Thank you so much dear friends:) Christian also is author of Games you find on website SkorpionMasque. And is not the only "Ultimate freesbee player-designer" like Angelo. Another one is the author of Rythm and Bullet, a Party Game of Cocktail Games at the booth just in front of us, sold out too.
It was nice to meet at my and that booth Mathew, Cyril of Hystari Games, Spartaco Albeertarelli of Editrice Giochi and many, many authors and friends. Andrea Chiarvesio, Luca Borsa, Giovanni Capobianco of Stupor Mundi, Piero Cioni, Colovini and Zaccariotto of Venice Coonection, Mario Sacchi, Paolo Vallerga, Paolo Mori, Luca Coppola, Sooooo many people: it is nice to remember for many of them their first steps, the first times they asked to me how to come in Essen, how to fill the forms, and now see them with their own companies and booths.
See you in LuccaGames 1-4 November: we are there since 2000, when Warangel gets first "Best of Show" award named "Best Italian Game". Here the 2008 preview on LuccaGames website.
Then Ludica Festival of Games in FORUM Milano, 21-23 november.
See you there... To the next!
Angelo Porazzi