WARBEAST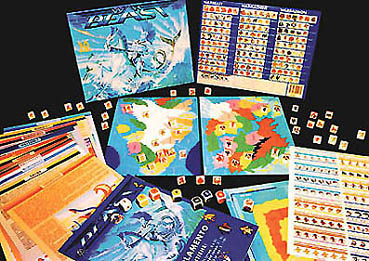 WARBEAST borns in 1998, two years later of Warangel first edition of 1996. This is a system of game, linkable with Warangel, created to be a Family Game, for battles faster and easier, with many players. In the box you find nine warrior races plus the Warbeasts, deadly creatures that you may fight or control. The universe Warangel-Warbeast is formed now by 120 compatible warriors races and two systems of play: Warangel and Warbeast. Choose your race and the system you prefer, you'll have fantastic matches with warriors and battlefields always new.

CONTENTS
10 REFERENCE SHEETS : WARBEAST - ATLANTEANS - SAVANNERS - PORKS - ABYSSALS - SULTANS - DIAMONDS - SORCERESSES - PRIMITIVES - NORTHENERS
1 RULEBOOK splitted on 3 levels to allows also children and beginners to easily approach this fantasy universe
9 A4 MAPS splitted in zones (WARBEAST's army does not have an own territory: these monsters invade territories of other 9 warrior races)
10 COMPLETE ARMIES with card counters. Counters in the box are to cut off, to be utilized as upsidedown "V" standing counters to have the warrior picture on a face and the warrior's values on counter's back
The english version of the game includes a complete english translation of rulebook and 10 small and quick reference sheets printed in fullcolor in english.
Since 2011, WARBEAST BOX contains also:
8 WOODEN DICE: 1 Warbeast Die and 7 Power Dice: Red, Blue, Black, Green, Orange, Yellow, White
6 WOODEN WARBEAST PAWN: 1 Snakes, 1 Jablo, 1 GigaTroll, 1 MegaMouth, 1 Facotoron, 1 Umutant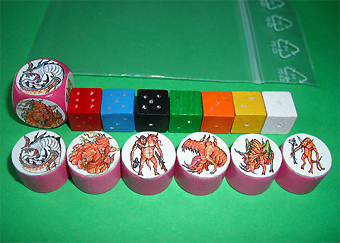 WARBEAST : complete boxed game with 8 Wooden Dice, 6 Wooden Warbeast Pawns: 25 euro
You can set up and order your own Warbeast Box with your favourite Races premounted on the WOODEN PIECES of "Create YOUR Warangel". These Woodenpieces play perfectly on the big hexed Maps of Warangel or on the maps spitted in zones you have in the Warbeast Box.