WARANGEL AND SCHOOL LINE PIGNA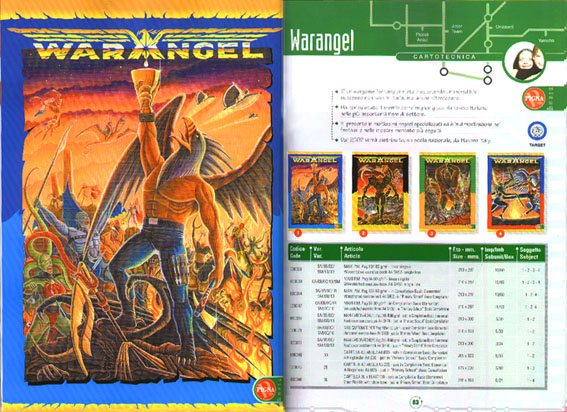 As reported on Pigna catalogue: "A fantasy wargame awarded Best Italian Game in the major luding conventions. It is present in the best specialized shops and toy fairs. Starting from 2002 it will be distributed on national territory by Hasbro Italy".
Thanks to the presence at Salone del Giocattolo di Milano 2001, illustrations of Warangel were picked up from Cartiere Pigna, greatest Italian producer of copybooks and school items.
Warangel has been choosen as first line for Basic Pigna Lines 2002, in 4 different subjects. Now the game appears on this catalogue together with logos such as Disney or Warner Bros.
Note that original name of the line was "Fantasy". It has been renamed "Warangel" due to the shape-colours of Warangel logo that was preferred to the original one.
Being author of the game, illustrations and logo of Warangel, I'm really proud of this double collaboration Hasbro Italy - Pigna, two "giants" that noted and want to work with a self-produced game. After the many awards in the luding conventions, these are to be considered two "real" awards.